Rekord World Cup Champions 2018!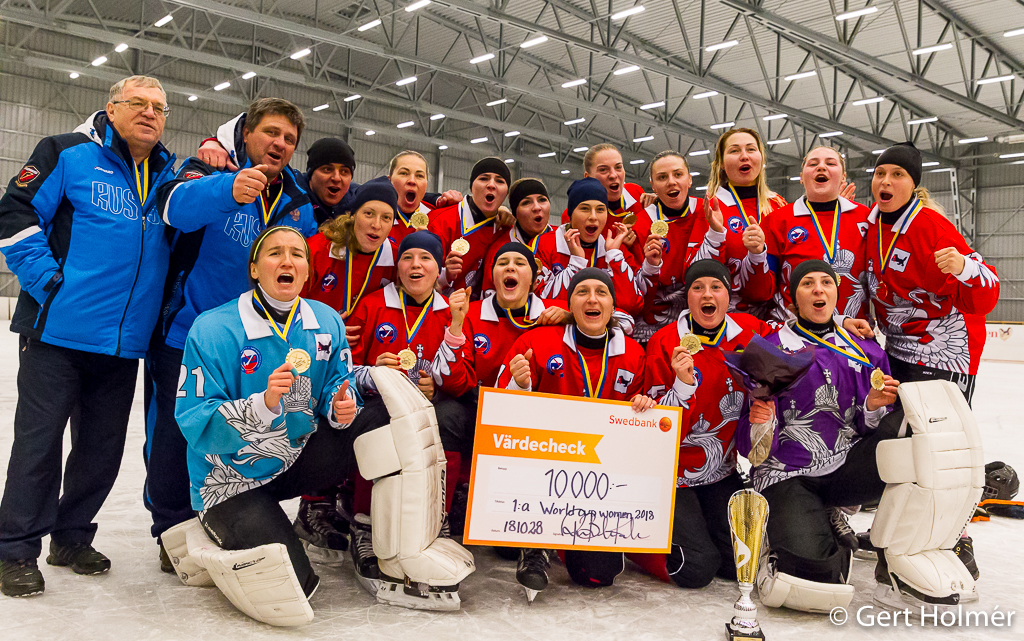 (Photo: Gert Holmér))

Russian team Rekord from Irkutsk became winner of the World Cup for women that was held in Ale Arena on the Swedish west coast this weekend. Rekord won the final against the Swedish team Västerås SK with 4 goals to 2.
Västerås reached the final by victory in the first semi final against Skutskärs IF with 2-1. 1-0 Linda Lohiniva, 2-0 Matilda Plahn and 2-1 Sanna Gustafsson on penalty.
Rekord won the other semi final against the Swedish team Villa Lidköping BK with 4 goals to 1.
0-1 Lisa Östman, 1-1 Tatyana Gurinchik, 2-1 Kristina Mashinskaya, 3-1 Olga Rodionova and 4-1 Anastasiya Denisova.
In the final, Rekord Irkutsk was always in the lead and won well deserved. Goal in the final: 0-1 Kristina Mashinskaya on penalty, 0-2 Oksana Pronshina on penalty, 0-3 Tatyana Gurinchik, 1-3 Virve Rylander, 1-4 Olga Rodionova and 2-4 Matilda Plahn.

The placement games ended with these results:
Place 9-10 Söråkers IF-Tranås BoIS 1-3
Place 7-8 Wiipuurin Sudet-Skirö AIK 2-4
Place 5-6 AIK Solna-Sandvikens AIK 2-1
This is the fourth victory for Rekord Irkutsk in the World Cup. The team has previously won the 2009, 2012 and 2016 tournaments.
Federation of International Bandy congratulates Rekord Irkutsk to the World Cup Victory!
Facebook
inget innehåll satt.